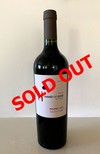 2012 Estate Malbec - SOLD OUT
Product Description
This wine could easily be mistaken for a Southern French Malbec, with a leaner, more earth driven style than most Argentina Malbecs. Expect bright acid with notes of sour cherry and cassis, with a layer of soft tannins for structure, and a dusty rustic quality that gives this Malbec a completely different character. Blackberry notes dance on the tongue while a hint of mint on the nose give the Malbec a very unique impression. This wine would benefit from an hour of decanting, and would be a sturdy compliment to a wild game dish or hearty cheese.
Wine Profile
Tasting Notes
Perhaps no wine surprised me more or should I be surprised(?) by the country's hallmark grape – Malbec.  Showing no signs of getting old, this youthful bombastic example reminds me of a Willy Wonka Everlasting Gobstopper with eternally black ripe purple fruits, crushed under their own bodacious weight, languishing in an intoxicating pool of flavor with blackberry confiture, Chinese preserved plum, hoisin sauce, Cavendish tobacco, and the minerality of a giant granite Tahona stone, steeped in moist, fleshy, brandy soaked berries.  This wine is an Andean effort with broad shoulders in an Armani suit of armor.  Big, bold and brandishing an anesthetizing level of alcohol, that seduces your senses like a passionate kiss from a lush.  A side of pancakes and a juicy ribeye steak would pair perfectly with this monster of a Malbec.
Vineyard Notes
Valle de Uco is a viticultural region southwest of Mendoza, in Argentina. Situated along the Tunuyán River, the Uco Valley is widely considered one of the top wine regions in Mendoza, and all of Argentina. The annual average temperature is 14 °C (57 °F) and altitudes range from 900–1,200 metres (3,000–3,900 ft) above sea level.[1] The combination of high elevation, alluvial soils, irrigation sourced from the Andes Mountains, a long growing season with over 250 sunny days a year, little rain and vast temperature differences between day and night are all conducive to growing quality wine grapes. These climate and geography elements come together to provide excellent fruit ripening and concentration, developing colors, aromas, flavors and textures resulting in wines that are deep in color, intense in aromas and rich in flavors. The Uco Valley figures prominently in the Argentina Wine Route for tourist visitors.[2] Traditionally, the varietals grown in this area are Sémillon and Malbec; together with Bonarda and Barbera in a smaller amount.[3]
Food Pairing Notes
Grilled Meats and Steaks, BBQ
Product Reviews
Michael
(Jan 19, 2021 at 5:47 PM)
Cherry, dark berries, mushrooms, leather
Tony Bear
(Jan 20, 2021 at 2:52 PM)
Great color, deep flavor on back of pallate. Bigger but not over stated Easy to drink, great value.
The Goddamn Bacon
(Jan 20, 2021 at 2:53 PM)
Bold. Very bold. And dry. This is definitely a specialty wine to pair. Had it with a random NY Strip and pulled pork tenderloin tacos. Thinking this might be better with some sort of rich dessert!
Charles C
(Jan 20, 2021 at 2:54 PM)
Delicious very bold spicy red.
Mary Failano
(Jan 20, 2021 at 2:55 PM)
Plum notes. Faint oak and pepper but very smooth finish. Not dry or tannin flavors.
Jami M
(Jan 20, 2021 at 2:56 PM)
Yummy, super dry, goes great with Baja fish tacos!