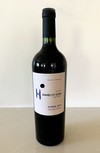 Product Description
Syrah comes in many shapes and styles, from jammy and fruity to the other extreme of earthy and lean. This Syrah splits the difference, with a vibrant spiciness that is contrasted with a ripeness and depth that gives the wine a few different layers of character. Subtle notes of black coffee and 85% dark chocolate lurk in the background. After an hour of decanting expect to notice a creamier texture with more apparent notes of vanilla and cinnamon.
Product Reviews
Chris S
(Jan 19, 2021 at 5:44 PM)
Extracted, full body, light tannins, light-medium acidity. Blackberries and a hint of leather and bacon on the palate. Sandalwood and a touch of green pepper on the nose. Intense wine.
Jack
(Jan 19, 2021 at 5:45 PM)
Cherry, acidic, good tannins, semi dry
Tucker
(Jan 20, 2021 at 2:41 PM)
Jammy, yummy big berry fruit hangs on the finish... Mouthful the Argentinian Syrah's are more Cab like and this one is super satisfying first time I tried but won't be last
Jared Champagne
(Jan 20, 2021 at 2:42 PM)
Might be one of my favorite new wineries.
Jack McDowell
(Jan 20, 2021 at 2:43 PM)
Cherry, acidic, good tannins, semi dry