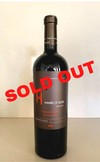 2012 Fingerprint Series Red Blend- MB3 - SOLD OUT
Product Description
Fingerprint Series Red Blend MB3 - 55% Malbec, 35% Syrah & 10% Petit Verdot
Ideally situated from 3,600 ft. above sea level in the Uco Valley, Mendoza, Sobremesa Vineyard is bathed in warm sunlight and touched by cool breezes blowing from the top reaches of the imposing Andes Mountains. Only a fraction of the highest quality grapes are carefully selected to impart the freshness of the higher altitudes. Harmoniously integrated immediately after fermentation, this commanding blend boasts great power, multi-layered complexity and length.
Wine Specs
Varietal
Malbec-Syrah-Petit Verdot
Product Reviews
Chris
(Jan 19, 2021 at 5:30 PM)
Deep dark nose on this wine. Raspberry and dark cherry on this wine and just an excellent finish
Gordon Frank
(Jan 19, 2021 at 5:39 PM)
Has aged wonderfully. Full bodied and just perfect, not too dry and not fruity. Could drink all day.
M.C
(Jan 20, 2021 at 1:59 PM)
Lots of character for a 'Blend' wine. Delightful , tobacco,pepper and tint of dark fruit...
Dawn L
(Jan 20, 2021 at 2:00 PM)
I typically drink Pinot Noirs which would be considered a lighter red wine. This is definitely not a light red wine. More chew to it. Definitely something to pair with a good steak. Chocolate, cherry, still showing some tannins in this vintage. Definitely enjoyed.
Jane Burmeistwr
(Jan 20, 2021 at 2:01 PM)
Once you let this wine breathe, it is a wonderful explosion in your mouth. You can taste the Malbec and Syrah. Big Blend if you like Big wines.
Joel Diaz
(Jan 20, 2021 at 2:02 PM)
Green tea notes at the front, some green, tropical fruit such as mango, peachy with a citrus candy hint at the end.
winenot59
(Jan 20, 2021 at 2:20 PM)
Wasn't sure what to expect from this one, but it's pretty nice. Garnet in the glass. Nose has bell pepper, cracked pepper, raspberry, and dried fruit. Palate has blackberry, blueberry jam, and prune with pepper and spice throughout. Brief to moderate finish with pretty strong tannin. The confusing part with this one is the caramel corn and buttered toast undertones... am I crazy???